Food
---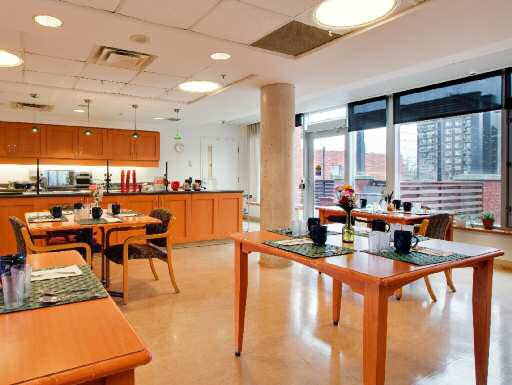 Individual needs of the residents are met with our on-site meal preparation. The Director of Food Services and the Registered Dietician assess the needs, likes and dislikes of each resident and establish a Nutritional Plan of Care.
We value the input we receive from our residents. Resident Food Committee meetings are held monthly to review menus, resident concerns, and related nutritional topics. Residents have input to the menus initially as well as with "Resident's Choice", were residents choose the meal for that period. The menus must be approved by the Dining Committee as well as the Registered Dietician prior to their implementation.
Our 4 week rotating menus are changed twice a year to reflect the Spring/Summer and Fall/Winter seasons. During the summer months we hold resident and visitor BBQs. Families and friends are invited to join their loved ones at meals and special events. Tickets are available at reception and special seating arrangements can be made in advance.
In addition to 3 meals daily, residents enjoy between meal nourishments from a rotating nourishment menu. Special nourishments are also available based on resident likes and dislikes.
Meal Service Start Times:
Breakfast: 8:00am - 8:30am
Lunch: 12:00pm - 12:30pm
Supper: 5:00pm - 5:30pm
* Home area times may differ.